We are on the road to create positive change for the ATR-X Community. With your help, we will get there faster!
Here are some of the many ways you can help make a big difference for ATR-X syndrome.

1) Create Your Child's
Fundraising Team!
Share your child's story, add photos/video, set your fundraising goal, and share your personal fundraising page url with your network of supporters. We use Classy, which is just like GoFundMe, to make it so easy to create your own fundraising campaign.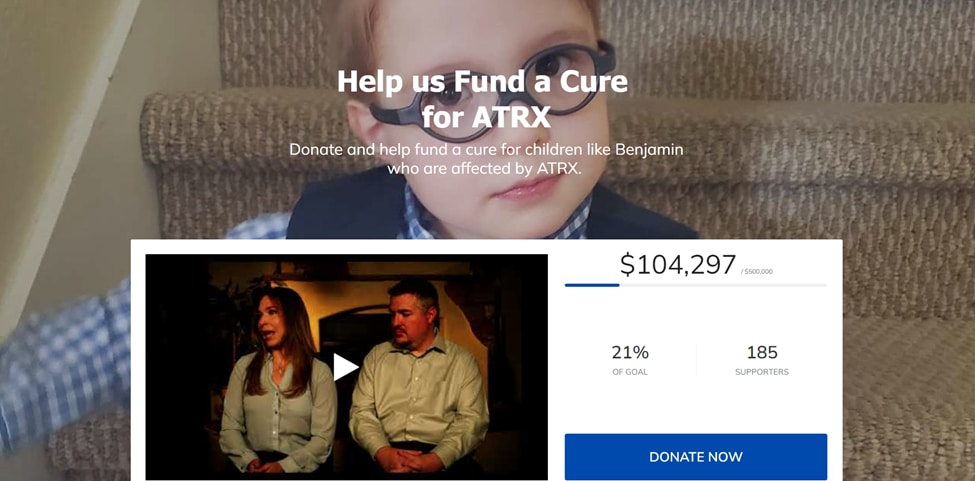 2) Create a ATRX Research Alliance Fundraising Event
We're here to help support your event! Just email us at info@atrxresearch.org
There are many different types of fundraising events you can plan. Here are some great ideas.
3) Send a Personal Letter to Your Network
A personal letter from the heart, not only helps your network of supporters understand the challenges and raise awareness of life with ATRX Syndrome, but will show them where their donations will go.
Here is an example of a letter one ATR-X dad sent to his team of Heresupporters.  We are happy to help you!
Don't forget to include all the different ways to donate: Online, through your own fundraising team page, by check, wire, and/or by donating stocks. Many companies match donations too! 
4) Cover Social Media with ATRX Awareness
Share our posts on Facebook and Instagram!
Follow us on Facebook and repost our posts.
Use hashtag #ATRXawareness #ARA #ATRXResearchAlliance and always tag us in your posts @ATRXResearchAlliance
Link your fundraising team!
5) Host a Facebook Birthday Fundraiser!
Search Rare Village Foundation under Facebook Fundraisers and "Create Fundraiser"
Then, make sure that you mention ATR-X syndrome, or ATRX Research Alliance when adding the details of your fundraiser, so that your funds will be allocated appropriately to the ARA fund.
Please reach out to us via FB messenger or email so we can support and prompt your fundraiser as well, we are stronger together!
6) Set Up "Recurring" Donations
Set up monthly recurring donations so that every month you're automatically contributing to the path to treatment.  Share this option with your supporters as well. For the price of a few Starbucks lattes a month, or a Netflix subscription, you can subscribe to accelerate research for our kids.
7) Participate in the Biobank initiative.
Contribute to the ATR-X biobank and help us to create a robust research resource to better understand ATR-X Syndrome and its effects on our beloved patients.
Email: NIGMS@Coriell.org to get started!  (be sure to copy Jennifer@ARA.org so we can keep things moving smoothly)
ARA is a parent led Global group of families fighting to improve quality of life for our ATR-X patient community. We invite you to join us and support these efforts. We are currently looking for folks with experience in Healthcare, Business management, and Media/Content Management to support our leadership team. We have many additional areas in need of support, so if you feel called to help, and can carve out some time in your schedule, we would love to hear from you. 
We are currently recruiting to fill the following positions:
Board member

Director of Fundraising

 

Fundraiser

 

Social Media Manager

 

Content creator

 

Admin Assist